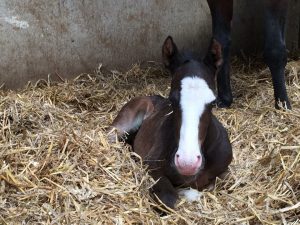 At DA Stables, we're specialised in breeding American 'quarter horses'. We only breed with the best performance bloodlines (AQHA & NRHA approved); like Hollywood Jac 86, Gunner, Custom Crome, Spat O Lena, Gunnatrasya, Cromed Out Mercedes, Smart Little Lena, Taris Catalyst, Topsail Whiz, Walla Walla Whiz, Brennas Kid, … & Double R Okie. This all with one goal … Giving birth to exceptional quarter horses. We use the best hay & alfala (own production), the best feeds (Lannoo & Guidolin) and all our experience; for the love of 'reining'.
After two summers in our pastures, they are gently started to become top reining horses.
Looking for a foal or reiner? Take a look at our sales page or contact us.
Mare Hotel
During foaling season, we open our infrastructure to 'external' mares. We accept from February till July mares for foaling and breeding. Together with our vet, we'll do all the necessary! Don't worry, your mare will get all the attention she needs before or after foaling.
Foaling
One of the most beautiful and stressing moments is when a mare is preparing herself to give birth. At DA we dispose of an adapted environment (2 stalls 4,5 by 3m with 24h/24h video surveillance) and years of experience. We'll do everything to help giving birth to your champion.
Breeding
We work closely together with our vet (and stallion owners) to follow up your mare's cycle and get your mare safely in foal. In order to give your mare all the comfort she needs. We adapt their feed, put them daily in one of our paddocks, … & provide a quite environment.
Currently, we only accept mares for insemination of fresh or cooled semen.
Stallion(s) @stud
Since the late 90's, you can find in Europe some outstanding stallions at stud providing cooled semen during breeding season. Next to this, every high performance stallion from our globe is available by frozen semen. Looking for one? Pay a visit to the NRHA Stallion lining for 2019.